Why Do I Need an LMS?
I Want My Own Training Business
Have you ever wanted to have your own online training business, or an online addition to your current classroom teaching? If you've got great ideas, great teaching ability and you want to expand, it's probably the best option to reach more people, more quickly and more profitably. But how do you do it?
This is the situation I found myself in last year. I have been teaching English and IELTS for about 20 years, and was an IELTS examiner for 4 of those years. I have designed curriculum, courses, lessons, quizzes and so on. I have taught fully offline courses, blended courses and completely online courses with various tools.
Over my years of teaching, I have researched and used educational technology in my teaching, and taught teachers how to use it. I have done formal research in using Ed Tech for teaching at university, and attended and presented at Ed Tech conferences in Hong Kong and Singapore.
My next step was to start my own online platform. I had ideas that weren't being used, and I felt like I could run a successful English training business.
The Flipped Classroom
Having worked at large universities, I knew that I would need some kind of Learning Management System. I have used Blackboard and Moodle extensively, for course design, management and delivery. I have also presented research of one Blackboard course at an international conference and had the results published.
The research that my colleagues and I carried out was based on the idea of a 'flipped classroom'. This is basically a teaching model that requires teachers to 'flip' their classes. Traditionally, in class, teachers first present new material, then provide controlled practice with reading and listening exercises, and then set the 'thinking' work for homework. Students are asked to complete their research, or write an essay, or prepare a presentation at home.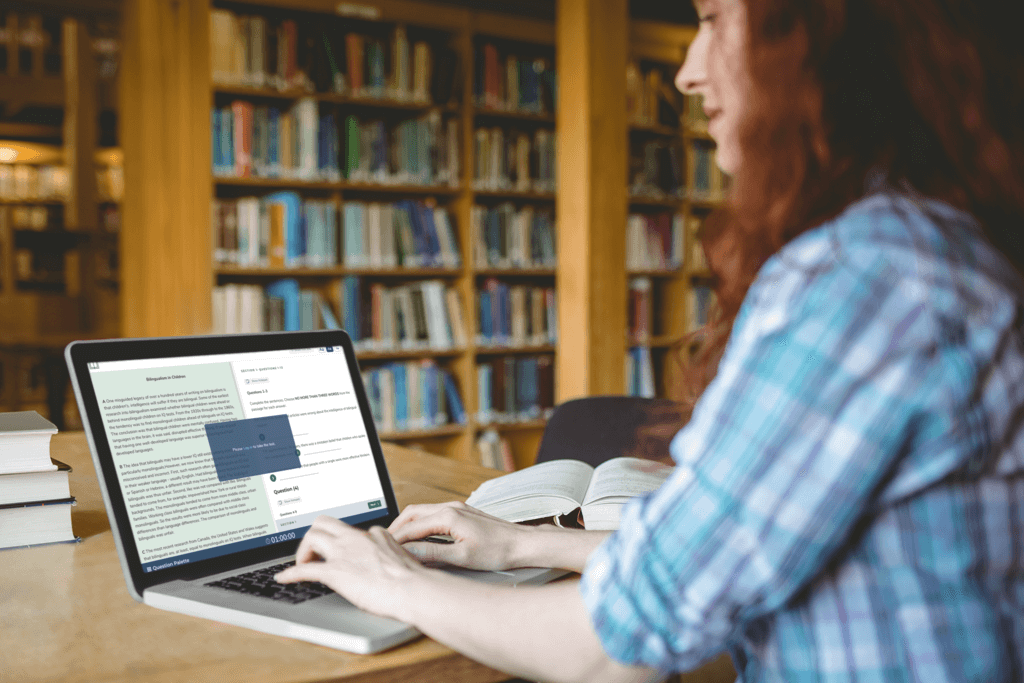 The big problem with this model is that it leaves the cognitively demanding aspects of a course to be done without a teacher. The idea of the flipped classroom is to do it the other way around. Ask students to watch introductory material, or do their reading and listening exercises at home, and then come to class to use that new knowledge. Come to class prepared to think critically, brainstorm ideas and discuss problems and solutions.
The idea of flipped classrooms really took off with COVID and more online learning. The difference being that 'class' time is now 'online class time'. This separation of introductory and higher order thinking tasks is now thought of in terms of Asynchronous Learning and Synchronous Learning.
This model works, but it needs to be managed well. It needs a learning management system of some kind.
Blackboard LMS
While teaching at Chulalongkorn University, I wrote several courses using the Blackboard LMS. The university had a license for Blackboard, and we had a lot of support from our Blackboard resellers in Singapore.
Although there were many problems implementing the system, overall I liked it. It housed and delivered all of the content. I was able to write rubrics and attach those to students assignments. There were registers, gradebooks, and student/teacher communication methods. In addition, there were ways to monitor teacher grading and enough feedback to apply more teacher training if or when required.
So naturally, when I decided I wanted my own online training business, I knew I would need some kind of LMS. Managing more than a few students without one would be a nightmare! But, which one?
The Best LMS for IELTS Training
What Do IELTS Websites Look Like?
I started looking at what websites were available for learning IELTS online, and I found so, so many. But while I found some great resources, I didn't find anything that I really liked.
There were many sites offering mock tests, some free but loaded with annoying adverts and banners. Mock tests are a great resource, but not enough by themselves.
There are some really good sites that offer a vast library of questions and give great advice. I think these sites are valuable for understanding the IELTS test better. But they really offer past models to copy, not activities to build new skills.
There are other sites that offer classes and webinars quite cheaply, but then add on high fees for writing and speaking assessment. And no real instruction, more like video courses with expensive add ons.
In addition, what I found with most sites that I visited was that they were 'just too much'. Too much information, too many options, too much choice, too many adverts, or they just wanted too much money.
Many of these sites seems to be focused on getting as many students as possible while not requiring too much work to run. And offering very little or nothing for IELTS trainers.
So I knew I could do something better, something that was better designed for teaching and learning, and more cost effective.
I knew what I wanted, but didn't know how to do it.
Website Options
Custom Built Website
First I had meetings with some web developers. That was scary! I thought that if I explained the look and feel, they would get it. Big mistake! No one understood what I wanted.
They were talking about the workings of the system without any understanding of the user experience that I wanted. And the time to completion was vague and the costs were large and again unpredictable.
Blackboard
After this fright, I decided to look again at what I knew best, Blackboard.
Blackboard could do everything I wanted, nearly. Everything except for the look and feel I wanted for my activities. Blackboard is limited in how you can make things look. I know from my research that university students generally don't like using Blackboard, even the newer interface versions. University students use it because they have to, their is no choice.
But, beauty aside, Blackboard is functional. It has great data collection and analysis tools, and it has great tools for assignment setting, submission and grading. You can even make custom rubrics quickly and easily. However, there is also the cost. Blackboard is built for institutions and is priced accordingly!
Moodle
Next I looked at Moodle. Moodle is open source and there are free versions and hosted versions, much like WordPress. Again, I have extensive knowledge with using Moodle, and I know that functionally it would be fine, and I know I could have a course up and running quickly.
I contacted a Moodle reseller that I knew as I didn't want to have the technical hassle of hosting my own Moodle site. I am primarily a teacher and I don't want to spend too much time keeping the software running!
I also wanted to know if they had any custom solutions to make Moodle look better, its interface is even uglier than Blackboard's in my opinion. My first, and last request, was to see if they could do a split screen for me, like the IELTS tests. I though this would be easy, but after two meetings and lots of drawings, they decided this was too hard.
Cost wise, Moodle wasn't too bad. It was more than I wanted to pay, but not out of reach entirely. So this could be an option for me, although a not so pretty option.
WordPress
I must admit that I knew next to nothing about WordPress going in to this. I didn't even know the difference between WordPress.org and WordPress.com. It's all very confusing, at first anyway!
I tried to find out what I could using Google, but in the end I set up a WordPress account because the explanations I found were all too abstract for me to understand. By the way, I set up a .org account because I wanted the flexibility that provided.
WordPress looked promising. It seemed affordable and extremely flexible. But I still couldn't find the style of quizzes that I wanted to make. I tried every LMS I could find, Lifter, Talent, Master Study and eventually to LearnDash.
LearnDash was the best for me, it had the best range of quizzes. But like everything else before, the beauty was still missing. And to add the functionality I wanted, I would need a more expensive theme, a plugin to collect APIs, a plugin to display them, a plugin to schedule classes, a plugin…….. You get the idea I think! Increasingly complicated and increasingly expensive.
Schoology, Formative, Edmodo, Google Classroom, etc.
If you do a Google for search for LMS products, you will find a lot! I can't say I've looked at them all, but probably most of the popular ones I've given a try. I don't want to split these up because I found them all not really suitable for my purpose in one way or another.
I've actually used Edmodo and Google Classroom quite a bit, and I like both of these for managing my classes within a school or university setting. But for me, they don't come close to offering what I need to run my own school with my own courses, etc. And to be fair, they are not really designed for that I guess.
And the Winner Is…
It was during these extensive Google searches that I came across IELTS.business. IELTSLMS.com and Mr Gurpreet Singh. He understands the IELTS business, he understood what I wanted to achieve. He already had a great deal of the technology and functionality that I wanted, but he also he had the expertise to write custom code and to give me loads of digital marketing advice.
Most importantly to me was the ability for me to write structured courses and to make my quizzes both functional and beautiful. Functional to a level, in fact, that I had not dreamed of. The ability to locate answer and offer explanations, the ability to do reading, listening, writing and speaking quizzes exactly how I would like them done. To be honest, I couldn't quite believe my luck.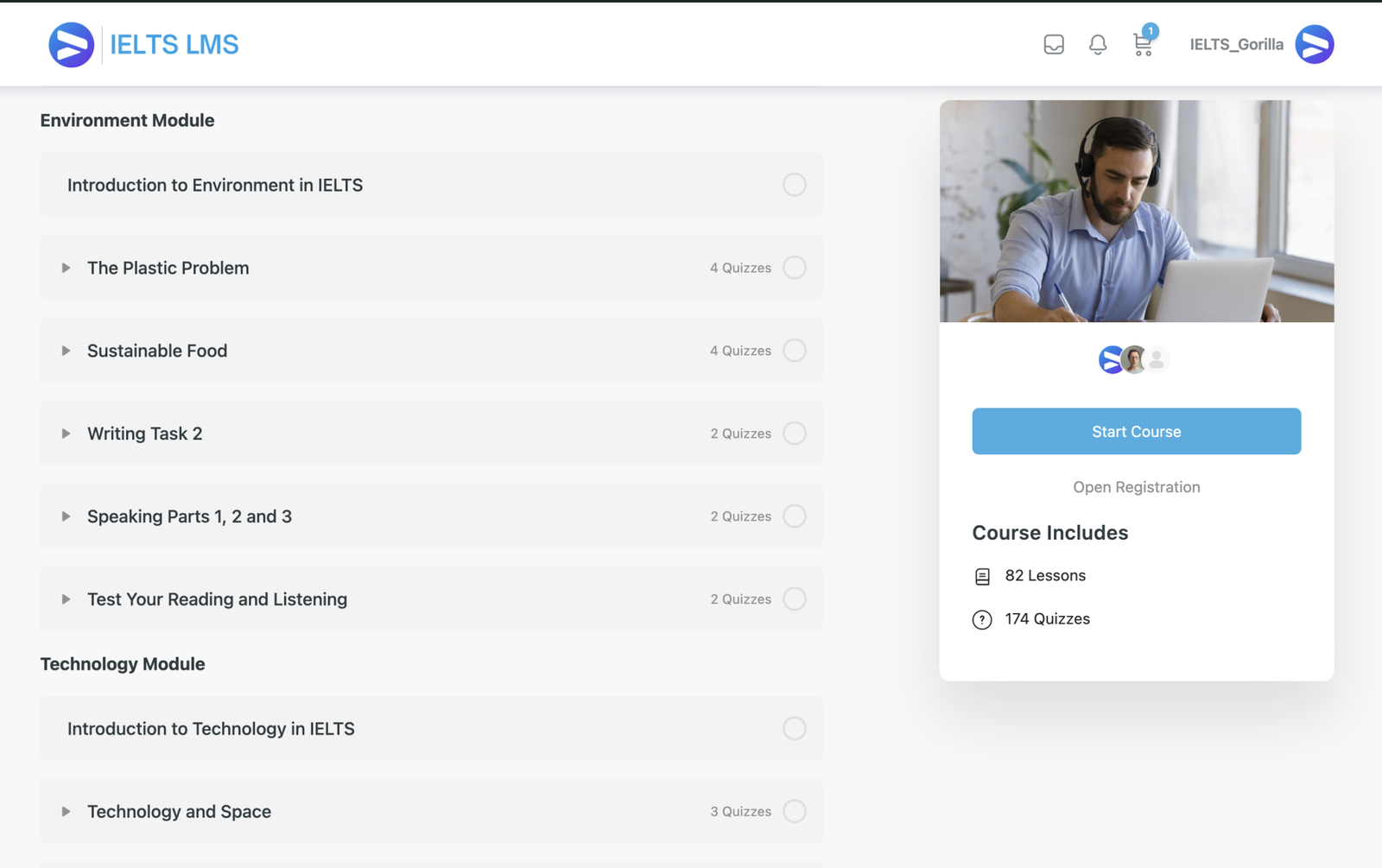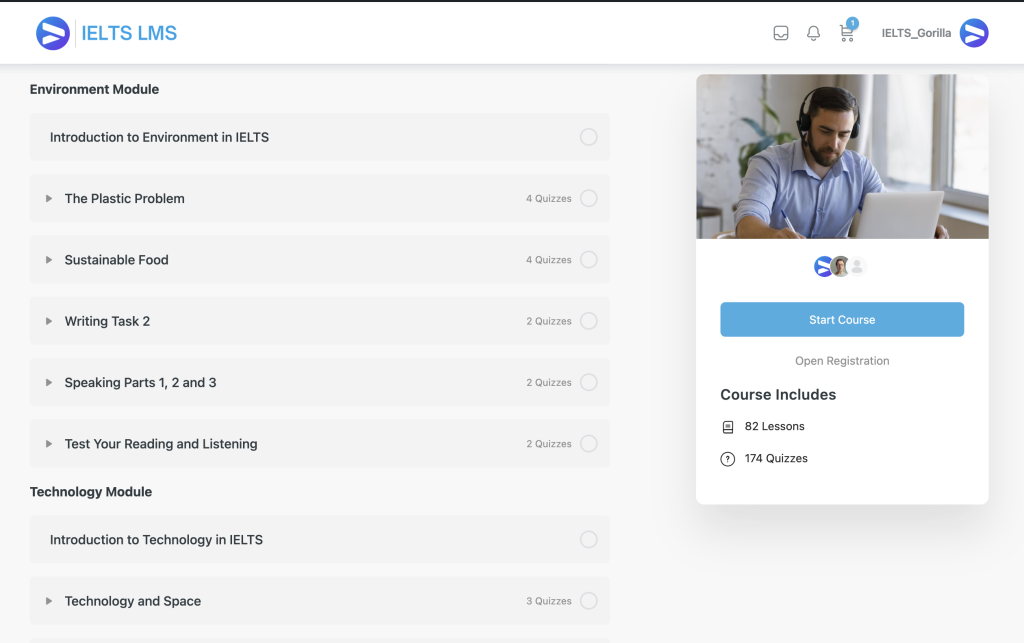 For me, in the end, it became a choice between Moodle and IELTS LMS. Moodle could have done everything I had wanted, I know it, it could have been up and running for me probably more quickly than IELTS LMS, but it lacked the beauty, some functionality, and was significantly more expensive. So I decided to go with IELTS LMS and not ever regretted it.
There is nothing like the IELTS LMS platform in the marketplace, believe me, I know!
Disclaimer: I think that what IELTS LMS offers is so unique, so functional, so beautiful and so affordable, I now work with them. But maybe you had guessed that already. That doesn't mean that this blog is made up, every word of it is true. You can research all the alternatives that I have and make your own mind up, if you have the time!