The Role of Feedback in IELTS
By Andrew Matthews, IELTSLMS.com
How Do We Learn?
When we learn to ride a bike, make a cake, or program in HTML, for example, we often don't need a teacher. We are motivated to learn, we may know someone who can help, and we have access to the greatest source of information in world history, the internet!
Do We Need Teachers to Learn English?
Learning English is no different in some ways. We have Google, we have YouTube, we have books, we have movies, and so on. There are chat rooms and numerous other ways to connect with native English speakers around the world to help us progress.
But most people find language learning extremely hard work and time consuming. It may start fairly easily, but it gets more complex and more exacting as we improve, especially academic English and IELTS. Even native speakers may find it difficult to help advanced learners get higher band scores in IELTS.
IELTS Teachers
When we learn to ride a bicycle, the feedback is immediate and painful, at least at the start! We start, we fall off, it hurts – our hands and our pride! We analyse what went wrong and start again.
Eventually we work it out, maybe with some friendly advice that helps us learn more quickly. That's for basic bike riding. But if we want to do tricks, enter the Olympics, or win the Tour de France, we need better help and advice, we can't do that alone.
High band scores in IELTS can feel like the olympics! The rewards are great, but it's hard work to get there. Some estimates suggest that learners require 3 months of high quality instruction to raise their band score by half a band.
This will obviously depend on many factors, and could be longer or shorter. This is why teachers of IELTS can be so important. Great teachers provide their students with many things that help reduce learning time. Motivation is key, but also targeted learning, high quality materials, exam practice, and of course, high quality and timely feedback are required.
Know What Your Students Need
In order to target teaching effectively, teachers need to know their students' strengths and weaknesses. This can be hard if there is no learning management system, like IELTSLMS.com. It is crucial for students and teachers to know where they are in the learning cycle.
This is easily achieved with IELTS LMS which provides an easy to ready progress dashboard, My Progress, detailing all results broken down by skill.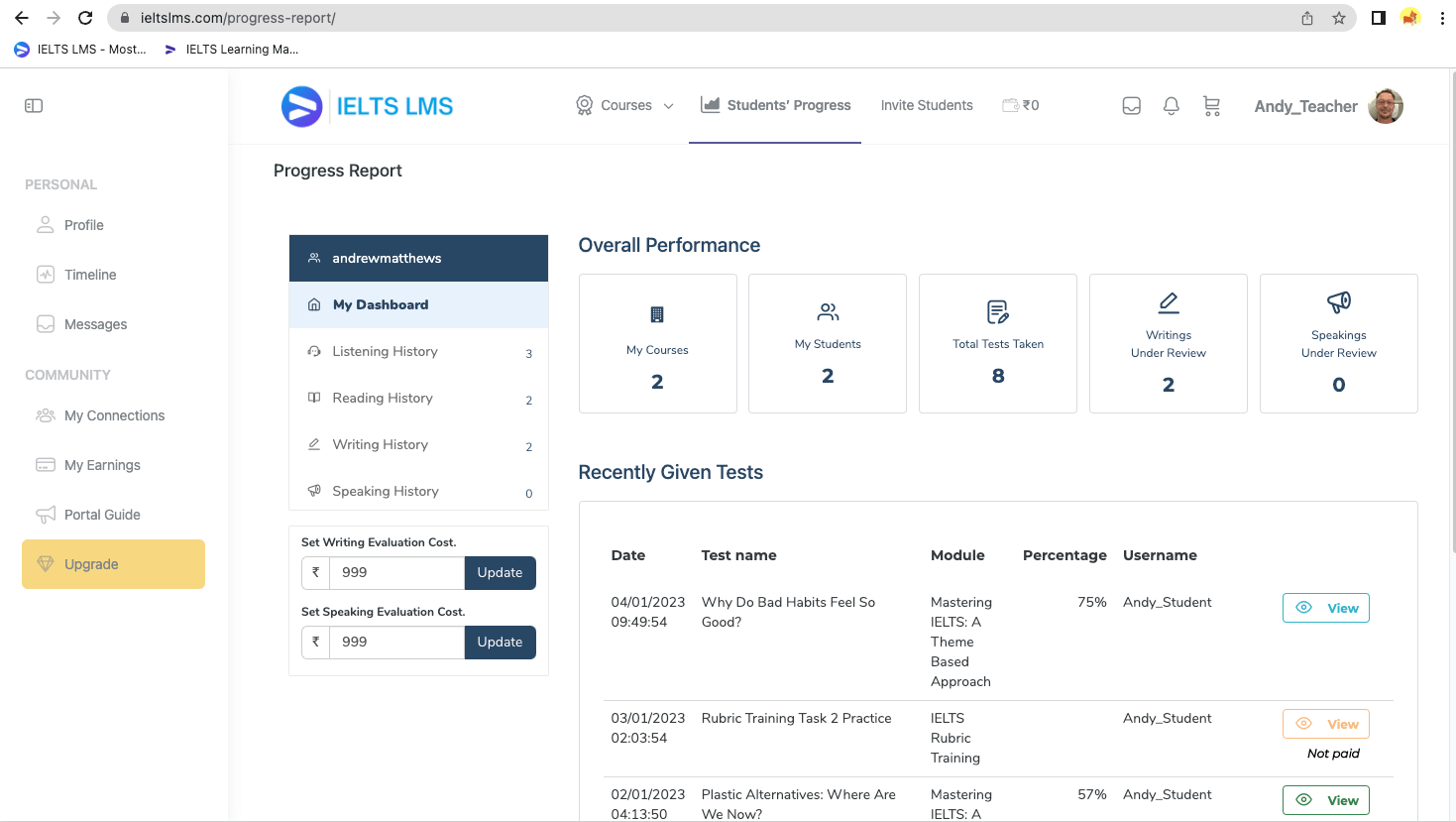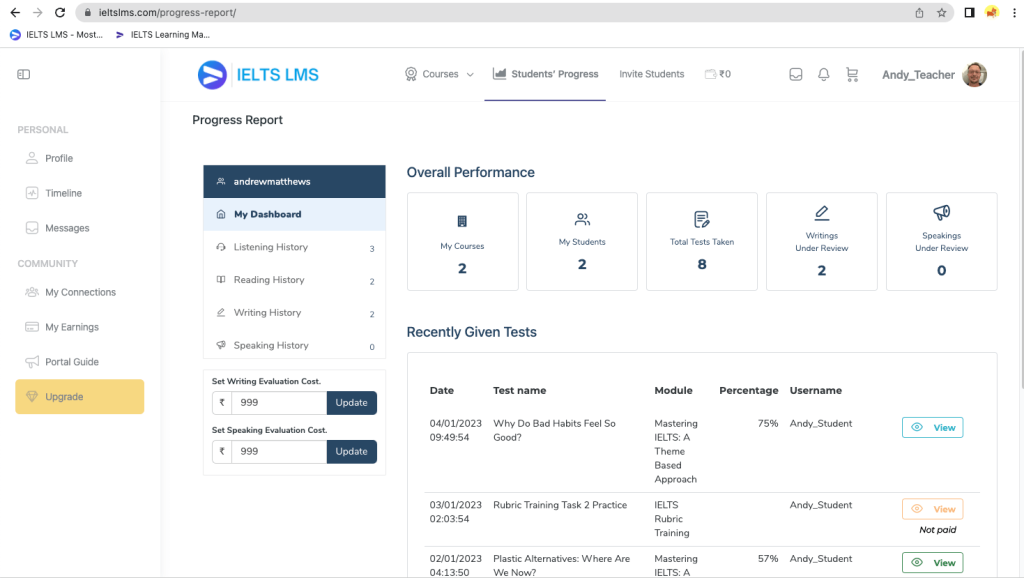 Reading and Listening
Courses using IELTS LMS have reading and listening activities that are graded automatically. They even have feedback showing you where the answer is located in the text or transcript, and explanations too.
This saves teachers time, and give students immediate and detailed feedback. But what about the writing and speaking parts?
Writing and Speaking
Well unfortunately, there is no reliable way to grade these automatically and teachers have to become familiar with the IELTS rubrics in order to provide the right feedback. For a high band score in IELTS, the following points need to be reached:
Ideas must flow easily and smoothly, in spoken and written English. Any gaps in knowledge must be dealt with calmly and fluently.
Vocabulary must be varied with good use of collocations and idioms. It must be used accurately.
Grammar needs to be free of errors and have good variation in use.
Pronunciation must be clear, and intonation must add meaning to and between the words use.
Grading students work to the IELTS rubrics gives them and the teacher the information needed to identify teaching and learning opportunities.
Again with IELTS LMS, this grading process is made simple and elegant. Students submit their writing and speaking through the LMS, teachers are notified and presented with students work and IELTS rubrics attached. This makes grading much quicker and more linked to IELTS standards. Teachers are also able to add specific comments for students to really speed improvement.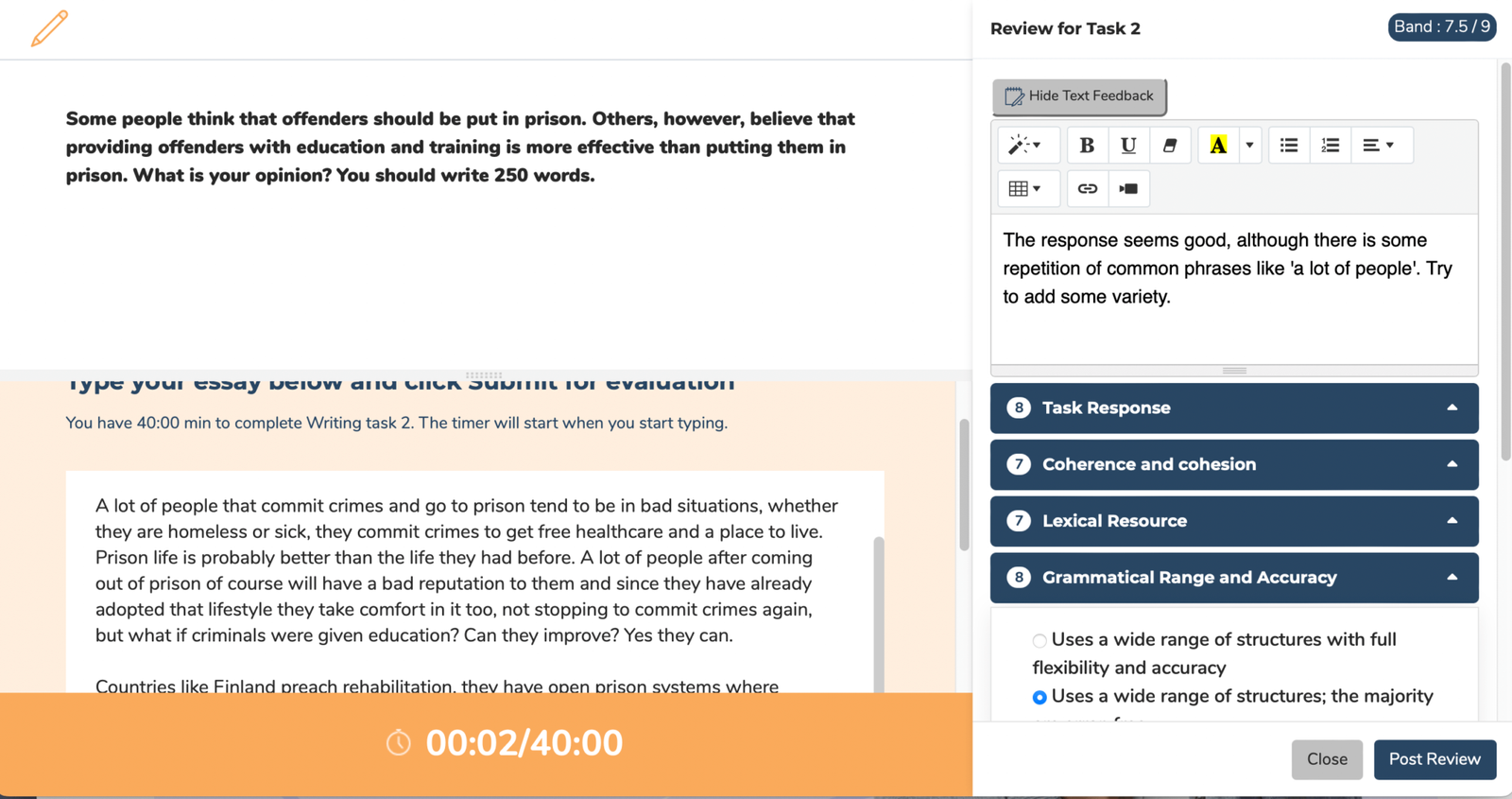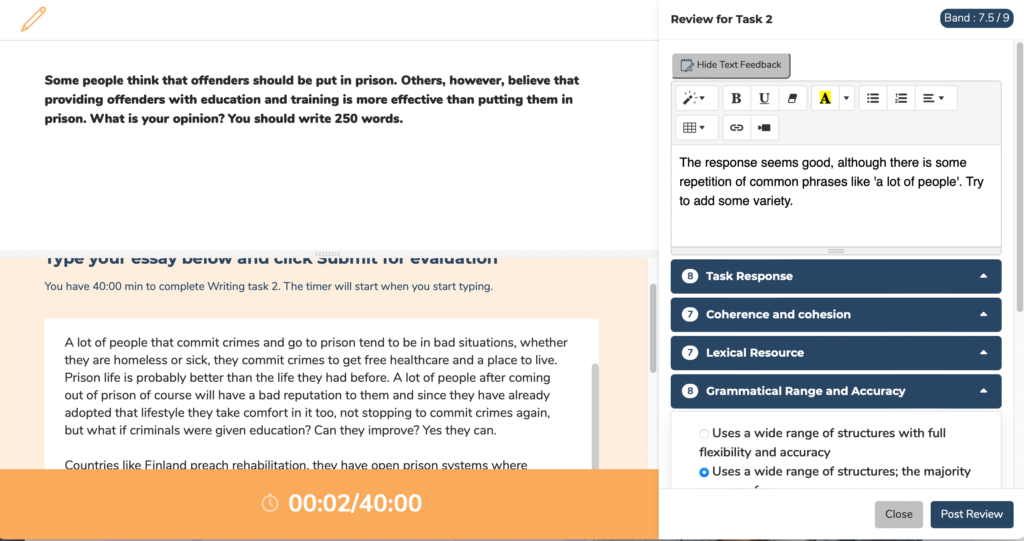 Feedback Informs Lesson Planning
Mastering IELTS: A Theme Based Approach (a course written using IELTSLMS.com) strikes a balance between automated feedback and teacher feedback. It allows students to progress through the course independently, but also gives them the opportunity to request expert help when they feel they need it.
Reading and Listening
Mastering IELTS uses reading and listening activities that are graded automatically with no teacher intervention required. Once completed, each activity is graded, correct answers provided, and even the location of the answer can be found in the text or transcript.
This allows students to work asynchronously on reading and listening tasks, and allows the teacher to concentrate on issues of understanding or discussion during their synchronous class time. (For a background in synchronous and asynchronous learning have a look at this article.)
Writing and Speaking
Writing and speaking activities on Mastering IELTS can be structured in a similar way. Teachers can use class time to brainstorm and discuss possible answers, and leave the actual speaking or writing to do offline, asynchronously.
Once writing and speaking activities are completed, students can request their responses to be graded by their teacher. IELTS style rubrics and specific written feedback can be included to really help the students understand their strengths and their weaknesses.
Feedback and Results Dashboard
The 'My Progress' dashboard in IELTSLMS.com (where Mastering IELTS is located), gives the student and their teacher all of the grading and feedback history in one place. At a glance we can find the overall learning trends, as well as being able to drill down into the four skills. This information is vital in helping our students improve and giving us the knowledge of where our students need help.
Over time, this knowledge will enable the teacher to structure class time more effectively, to concentrate on where their students actually need help. This means that feedback integrates with class time to give the best possible experience and outcome for the students.